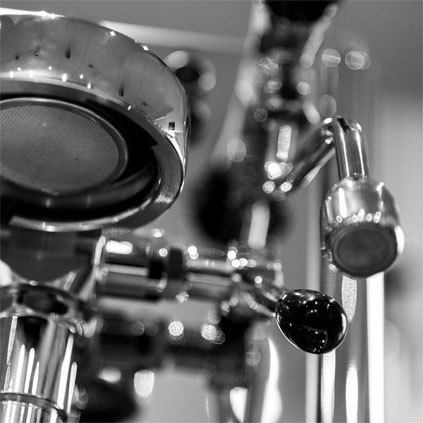 Repairs
Leave it to the experts! Years of experience
Located at our Jean-Talon location, the Café Union service team will put their years of experience in servicing and repairing espresso machines and coffee grinders to ensure that your equipment performs properly and lasts for years.

You can contact our team at reparations@cafeunion.com.
Business Hours
Our service department is open during regular business hours Monday to Friday. It is closed on Saturday.
We accept the following machines for service:
Semi-automatic espresso machines:
Ascaso
Breville BES810XL
Breville BES840XL
Breville BES870XL
Breville Café Roma
Gaggia Classic Pro
La Spaziale Vivaldi - Mini Vivaldi
Mokita
Pavoni
Quick Mill
Rancilio
Saeco
Superautomatic espresso machines:
Grinders:
Ascaso
Baratza
Compak
Quick Mill
Rancilio
Due to the difficulty of acquiring and keeping an inventory of proper parts, we are unable to service machines from other brands, as well as older machines for which parts are discontinued.
Please note that we only service espresso machines and grinders. We cannot service other types of appliances, regardless of brand.
All necessary parts for the use of the machine, such as water tanks, portafilters, and hoppers should be brought in for service. Accessories and detachable electrical cords can be kept.
** During winter months, DO NOT leave machines below the freezing mark for more than an hour, as the water in the machine may freeze and cause damage **
Costs
A 60$ inspection fee is charged when you bring in the machine for service. We will run your machine through a range of tests in order to diagnose any problems and provide a quote when applicable. The inspection fee is non refundable.
We charge an hourly rate for labor, as well as for the parts and materials required to fix your machine.
Warranty
Machines can only be serviced under warranty with a proof of purchase from one of our retail or web stores.
Repair warranty is 90 days for replaced parts and labor, with the exception of damage caused by misuse (lack of water, freezing damage, water in burrs, uncleanliness, etc.).
If your machine is not picked up within 60 days of the ready date, we cannot be held responsible for loss or damage.
Parts
Our parts department is open during regular business hours Monday to Friday. We can supply a variety of parts for the machines that we service. To purchase parts from us, please send your request to reparations@cafeunion.com, to confirm availability and cost.